This Site Is A Participant In The Amazon Services LLC Associates Program. We may earn money or products from Amazon or the companies mentioned in this post.
A beauty facial is a skincare treatment that focuses on improving the appearance of the face. It involves various techniques such as cleansing, exfoliating, and moisturizing to achieve a healthier and more youthful complexion.
In addition to these basic steps, a beauty facial may also include treatments like facial massage, steam, masks, and specialized serums or creams tailored to specific skin concerns. The purpose of a beauty facial is to deep cleanse the skin, remove dead skin cells, unclog pores, and promote better circulation, leading to improved skin texture and a brighter, more radiant complexion.
Regular beauty facials can help address common skin issues such as acne, dryness, aging signs, and uneven skin tone, while also providing relaxation and rejuvenation.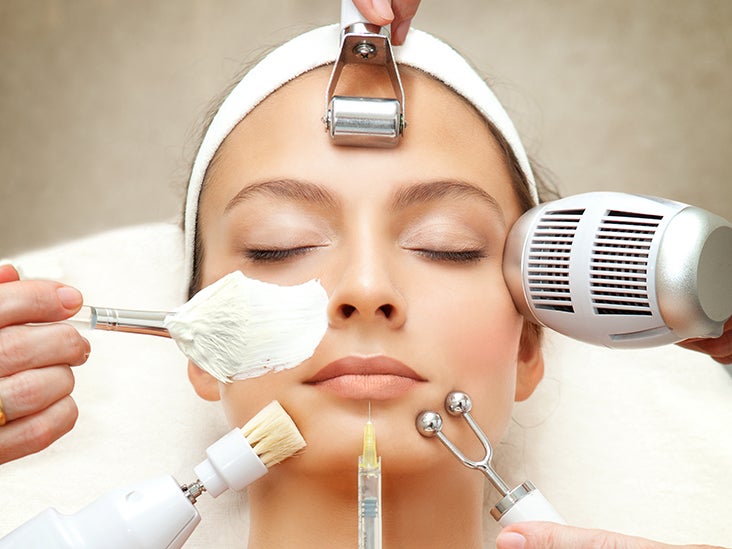 Credit: www.healthline.com
Understanding The Basics Of Beauty Facials
Definition And Introduction To Beauty Facials
Imagine stepping into a serene oasis, enveloped in soothing scents and gentle music, as a trained esthetician works their magic on your face. Welcome to the world of beauty facials – a luxurious and rejuvenating treatment that offers a multitude of benefits for your skin.
In this section, we will delve into the basics of beauty facials, exploring their definition, history, and purpose.
Brief History And Evolution Of Beauty Facials
Ancient origins:
Beauty facials have a rich history spanning centuries, tracing their origins back to ancient civilizations.
Cleopatra, the famed egyptian queen, was renowned for her beauty rituals which included treatments similar to modern-day facials.
In ancient rome, people used natural ingredients such as olive oil, honey, and milk to care for their skin.
Renaissance era:
During the renaissance, women in europe sought porcelain-like complexions and used lead-based cosmetics that eventually led to skin damage.
Later advancements in scientific knowledge led to the development of safer and more effective facial treatments.
Modern innovations:
In the 20th century, advancements in technology and beauty industry led to the evolution of beauty facials as we know them today.
Skincare professionals began incorporating various techniques, tools, and products tailored to individual needs.
The Purpose And Benefits Of Beauty Facials
Purify and cleanse:
Beauty facials deeply cleanse the skin, unclogging pores and removing excess oil, dirt, and impurities.
This thorough purification process helps to prevent acne breakouts and promotes a clearer complexion.
Hydrate and replenish:
Through the use of hydrating masks, serums, and moisturizers, beauty facials provide intense hydration to the skin.
This helps to restore moisture balance, reducing dryness and promoting a radiant and supple complexion.
Improve skin texture:
Regular beauty facials can improve skin texture by exfoliating dead skin cells and promoting cell turnover.
This leads to a smoother, more even skin tone and a youthful glow.
Target specific concerns:
Beauty facials can be customized to target specific skin concerns such as hyperpigmentation, aging signs, or sensitive skin.
Specialized treatments may include ingredients like retinol, antioxidants, or calming botanical extracts.
Relaxation and stress relief:
Apart from the physical benefits, beauty facials provide a moment of relaxation and self-care.
The soothing touch and tranquil environment can help reduce stress, promote mental well-being, and boost confidence.
So, whether you are looking to revitalize your skin, address specific concerns, or simply indulge in some self-pampering, beauty facials offer a holistic experience that nourishes both your skin and spirit.
Key Components Of A Beauty Facial
Cleansing and exfoliation:
The first step in a beauty facial is cleansing the skin to remove any impurities, such as dirt, oil, and makeup.
This process helps to unclog pores and prepare the skin for the remaining steps of the facial.
Exfoliation follows cleansing and involves the removal of dead skin cells using gentle exfoliating agents or tools.
It helps to reveal smoother and brighter skin by improving the skin's texture and promoting cell turnover.
Steaming and extraction:
Steaming is an essential part of a beauty facial as it helps to open up the pores and soften the skin.
This process promotes better absorption of products and prepares the skin for extraction.
Extraction involves the gentle removal of blackheads, whiteheads, and other impurities from the pores.
A skilled esthetician uses special tools or techniques to extract these impurities without causing any harm to the skin.
Facial massage:
Facial massage is a relaxing and rejuvenating aspect of a beauty facial.
It helps to improve blood circulation, reduce muscle tension, and stimulate lymphatic drainage.
The massage techniques can vary, but they often involve gentle strokes and kneading motions to promote relaxation and improve the skin's overall appearance.
Mask application:
Applying a mask is a crucial step in a beauty facial as it offers a targeted treatment for specific skin concerns.
There are various types of masks available, such as hydrating masks, clay masks, and brightening masks.
Masks are left on the skin for a specific duration to allow the ingredients to penetrate and work their magic.
They can help to hydrate, detoxify, purify, soothe, or tighten the skin, depending on the formulation.
Moisturizing and protection:
After the mask application, the esthetician applies moisturizer to nourish and hydrate the skin.
Moisturizers help to replenish the skin's moisture barrier and lock in essential hydration.
Additionally, a beauty facial often involves the application of sunscreen or other protective products to shield the skin from harmful uv rays.
This step is crucial for maintaining the results of the facial and protecting the skin from sun damage.
Remember, a beauty facial is a holistic treatment that combines multiple steps to provide various benefits to the skin. Each component plays a vital role in enhancing the complexion and promoting overall skin health.
Different Types Of Beauty Facials
If you're looking to give your skin a pampering treat, a beauty facial is the way to go. Beauty facials are specially designed skin treatments that target specific concerns and provide various benefits for your complexion. Here are some of the different types of beauty facials that you can choose from:
Hydrating Facials
Boost moisture levels in the skin
Restore hydration for a plump and radiant complexion
Combat dryness and flakiness
Improve the skin's ability to retain moisture
Soothe and nourish the skin with hydrating ingredients like hyaluronic acid and botanical extracts
Anti-Aging Facials
Reduce the appearance of fine lines and wrinkles
Improve skin firmness and elasticity
Stimulate collagen production for a more youthful complexion
Target age spots and hyperpigmentation
Incorporate anti-aging ingredients such as retinol, peptides, and antioxidants
Acne-Combatting Facials
Deep cleanse the pores to remove impurities and excess sebum
Reduce inflammation and redness associated with acne
Prevent future breakouts by balancing oil production
Promote cell turnover to unclog pores
Include ingredients like salicylic acid, tea tree oil, and sulfur to target acne-causing bacteria
Brightening Facials
Fade dark spots and brighten uneven skin tone
Enhance skin radiance and luminosity
Improve overall skin texture and clarity
Exfoliate dead skin cells to reveal a more youthful glow
Incorporate brightening ingredients like vitamin c, niacinamide, and arbutin
Detoxifying Facials
Purify the skin by eliminating toxins and pollutants
Deeply cleanse and unclog pores
Exfoliate to remove dead skin cells and promote cell renewal
Balance oil production and minimize the appearance of pores
Utilize detoxifying ingredients such as charcoal, clay, and botanical extracts
Whether you're seeking hydration, anti-aging effects, acne control, brightening, or detoxification, there is a beauty facial tailored to meet your specific skincare needs. Treat yourself to a rejuvenating experience and enjoy the benefits of a personalized skincare treatment.
The Procedure Of A Beauty Facial
A beauty facial is a rejuvenating and pampering skincare treatment that can leave you with a glowing and refreshed complexion. This procedure involves several steps that work together to cleanse, exfoliate, hydrate, and protect your skin. Let's take a closer look at each step involved in a beauty facial.
Consultation And Skin Analysis
Before starting the facial, it is important to have a thorough consultation with a skincare professional. This allows them to understand your skin concerns, allergies, and specific needs. Additionally, a detailed skin analysis will help identify your skin type and any underlying issues.
This information will guide the entire facial process, ensuring personalized and effective results.
Preparing The Skin
To begin the facial, the skincare expert will cleanse your face to remove any dirt, makeup, or impurities. This step prepares the skin for the subsequent treatments and helps in achieving better results.
Step-By-Step Process Of A Beauty Facial
Now, let's dive into the step-by-step process of a beauty facial:
Cleansing
The first step involves a gentle cleanser or cleansing milk being applied to your face. This helps to remove any surface impurities and excess oil, allowing the subsequent treatments to penetrate the skin more effectively.
Exfoliating
Next, the skincare professional will use an exfoliating scrub or enzyme peel to remove dead skin cells and unclog pores. This step helps to improve skin texture, promote cell renewal, and increase the absorption of products.
Steaming And Extraction
After exfoliation, steaming the face is performed to open up the pores. This allows for effective extraction of blackheads, whiteheads, and other impurities, leaving your skin clean and refreshed.
Facial Massage
One of the most relaxing parts of a beauty facial is the facial massage. Using gentle, upward strokes, the skincare professional will massage your face, neck, and shoulders. This not only relaxes your facial muscles but also improves blood circulation and lymphatic drainage, resulting in a more youthful and radiant complexion.
Mask Application
The next step involves applying a facial mask that suits your skin type and concerns. Masks can be hydrating, purifying, or nourishing, depending on your individual needs. The mask is left on for a specific duration to allow the ingredients to work their magic.
Moisturizing And Protection
To complete the facial, a moisturizer suitable for your skin type is applied to nourish and hydrate your skin. This step helps to lock in moisture, leaving your skin soft and supple. Additionally, a broad-spectrum spf is applied to protect your skin from harmful uv rays, preventing premature aging and sun damage.
By following this step-by-step procedure, a beauty facial provides multiple benefits, including deep cleansing, hydration, exfoliation, relaxation, and protection for your skin. It's a luxurious treatment that not only improves the appearance of your skin but also leaves you feeling pampered and rejuvenated.
Choosing The Right Beauty Facial For Your Skin Type
Assessing your skin type and concerns:
Before choosing a beauty facial, it's important to assess your skin type and concerns.
Skin types can include normal, dry, oily, combination, or sensitive. Each skin type requires specific care and attention.
Identify any specific skin concerns you may have, such as acne, wrinkles, hyperpigmentation, or uneven texture.
Customized facial treatments:
Customized facial treatments are tailored to address individual skin concerns and types.
A skincare professional will analyze your skin and create a personalized treatment plan.
The treatment may include a combination of cleansing, exfoliating, steaming, extractions, mask applications, and massage techniques.
Benefits and limitations of different facial types:
Hydrating facial: Provides deep moisturization to dry skin, reducing flakiness and increasing smoothness.
Clarifying facial: Targets acne-prone skin, reduces inflammation, and helps prevent breakouts.
Anti-aging facial: Addresses signs of aging, such as wrinkles and fine lines, promoting a more youthful appearance.
Brightening facial: Diminishes hyperpigmentation and promotes a more even skin tone.
Calming facial: Soothes sensitive skin, reducing redness, and boosting overall skin health.
Limitations: While facials offer numerous benefits, it's important to note that results may vary depending on individual skin conditions and lifestyle factors. Additionally, facials may not be suitable for certain skin conditions, such as severe rosacea or open sores.
Choosing the right beauty facial for your skin type can help you achieve healthy, glowing skin. Take the time to assess your skin concerns and seek professional advice to customize a treatment plan that suits your needs. Whether you're looking to hydrate, clarify, combat signs of aging, brighten, or calm your skin, there's a facial that can address your specific needs.
Remember, each facial type has its own set of benefits and limitations, so choose wisely and enjoy the rejuvenating experience.
Frequently Asked Questions About Beauty Facials
Can Anyone Get A Beauty Facial?
Beauty facials are suitable for most people and can be tailored to individual skin types and concerns. Here are a few key points to know about who can get a beauty facial:
Suitable for all skin types: Whether you have dry, oily, sensitive, or combination skin, there is a beauty facial that can address your specific needs.
Age considerations: Beauty facials are not limited to a specific age group. They can be beneficial for both younger individuals looking for preventative skincare and older individuals aiming to rejuvenate their skin.
All genders welcome: Beauty facials are not limited to women; men can also benefit from these treatments.
How Often Should You Get A Beauty Facial?
The frequency of beauty facials depends on several factors. Here are some key points to consider:
Skin type and condition: If you have specific skin concerns or conditions, such as acne or hyperpigmentation, your skincare specialist may recommend more frequent sessions. However, for general maintenance, a beauty facial every 4-6 weeks is often recommended.
Personal preferences and goals: Some individuals may prefer more regular treatments to maintain optimal skin health, while others may opt for occasional pampering sessions.
Are Beauty Facials Effective For Men?
Absolutely! Beauty facials are not limited to a particular gender. Men can benefit from these treatments just as much as women. Key points to consider:
Customized treatments: Beauty facials can be tailored to address specific skin concerns that men may have, such as razor burn, ingrown hairs, or dull skin.
Deep cleansing and exfoliation: Men's skin tends to be oilier and thicker than women's, making regular deep cleansing and exfoliation essential. A beauty facial can help achieve a fresher, smoother complexion.
Are There Any Side Effects Of Beauty Facials?
While beauty facials are generally safe and well-tolerated, there can be some potential side effects. Here's what you need to know:
Temporary redness and sensitivity: It is common to experience mild redness and sensitivity immediately after a facial. However, these symptoms should subside within a few hours.
Rare allergic reactions: Some skincare products used during a facial may trigger an allergic reaction in individuals with sensitive skin. It is important to inform your skincare specialist about any known allergies or sensitivities.
Can Beauty Facials Help With Specific Skin Concerns?
Absolutely! Beauty facials can address a variety of skin concerns. Here are a few key points to know:
Acne-prone skin: Certain facials utilize ingredients like salicylic acid or tea tree oil, which can help reduce acne breakouts and control oil production.
Aging concerns: Facials that incorporate ingredients like collagen, hyaluronic acid, or peptides can help boost collagen production, improve skin elasticity, and reduce the appearance of fine lines and wrinkles.
Hyperpigmentation: Facials utilizing brightening ingredients like vitamin c or kojic acid can help lighten dark spots and even out skin tone.
Keep in mind that the results of a beauty facial may vary from person to person, and it is important to consult with a skincare specialist who can assess your specific concerns and recommend the most suitable treatment for you.
Frequently Asked Questions On What Is A Beauty Facial?
What Is A Beauty Facial And How Does It Work?
A beauty facial is a skincare treatment that cleanses, exfoliates, and nourishes the skin, promoting a radiant complexion. It typically includes steam, extraction, and a customized mask to address specific skin concerns. The treatment enhances circulation and stimulates collagen production, leaving your skin refreshed and rejuvenated.
What Are The Benefits Of Getting A Beauty Facial?
A beauty facial offers numerous benefits, such as deep cleansing, removal of dead skin cells, and unclogging of pores. It can improve skin tone and texture, reduce the appearance of fine lines and wrinkles, and promote a more youthful and glowing complexion.
Additionally, facials can help relax and rejuvenate both the skin and mind.
How Long Does A Beauty Facial Session Usually Last?
The duration of a beauty facial session typically ranges from 60 to 90 minutes. This allows the esthetician enough time to thoroughly cleanse, exfoliate, and nourish your skin. However, the specific length may vary depending on the spa or salon and the type of facial you choose.
How Often Should I Get A Beauty Facial?
The frequency of getting a beauty facial depends on various factors, including your skin type, concerns, and budget. For most people, it is recommended to have a facial every 4-6 weeks to maintain optimal skin health. However, your esthetician can provide personalized advice based on your individual needs.
Are Beauty Facials Suitable For All Skin Types?
Yes, beauty facials can be tailored to suit different skin types, including oily, dry, combination, and sensitive skin. The esthetician will assess your skin condition and concerns to customize the treatment accordingly, using suitable products and techniques to achieve the best results without causing any irritation or discomfort.
Is There Any Downtime After A Beauty Facial?
Generally, there is no significant downtime after a beauty facial. You may experience slight redness or sensitivity immediately following the treatment, but it typically subsides within a few hours. It is important to follow any post-facial instructions provided by your esthetician, such as avoiding excessive sun exposure and using gentle skincare products to maintain the benefits of the facial.
Conclusion
To wrap it up, a beauty facial is a rejuvenating treatment that aims to improve the health and appearance of your skin. By combining various techniques such as cleansing, exfoliating, and moisturizing, a beauty facial helps to remove impurities, unclog pores, and promote a healthy glow.
With the use of specialized products and professional techniques, this treatment can address specific concerns like acne, fine lines, and sun damage. Regular facial treatments not only provide immediate results but also contribute to the long-term health and vitality of your skin.
By boosting collagen production and stimulating cell turnover, a beauty facial helps to maintain a youthful complexion and minimize the signs of aging. So, if you want to give your skin the ultimate pampering experience and achieve a radiant glow, book your next beauty facial appointment today!